News
Secondary Quad 2 Exam and Start of Quad 3 Transportation Schedule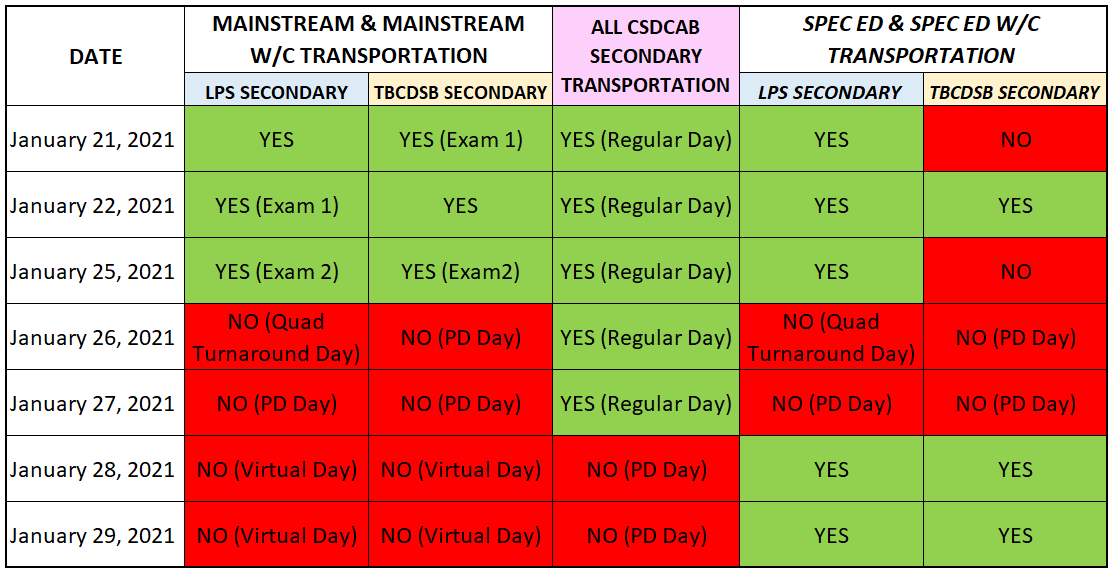 Masks are a Must for Grades 1 - 12 on the Bus
As per the announcement by the Office of the Premier on Tuesday, January 12, 2021, students in grades 1-3 must now also wear a mask when riding the school bus in addition to those in grades 4-12 who already had this requirement. It is also recommended that students in Kindergarten are masked on the bus as well.
New Bus Delay and Cancellation App Launched
STSTB launches delay reporting notification service through the free mobile app "Bus Status"
Getting information about school bus cancellations and delays just got a little bit easier.
Student Transportation Services of Thunder Bay (STSTB), which provides transportation services to students of the Lakehead District School Board, Thunder Bay Catholic District School Board and Conseil Scolaire de District Catholique des Aurores Boréales has launched a new mobile app that will provide subscribers with real-time notifications whenever buses administered by STSTB are delayed by 15 minutes or more. The notifications will come in the form of alerts, which will also include service cancellations due to the ongoing severe driver shortage and adverse weather conditions.
"We are thrilled to offer this new service to help our students and families stay informed with the most up-to-date information in the event of delays or cancellations," says Craig Murphy, STSTB Consortium Manager.
The app allows subscribers to select the morning and afternoon buses for which they wish to receive updates from a simple drop down menu of all bus routes STSTB manages.
Bus delay and weather cancellation information will also continue to be posted on the STSTB website at www.ststb.ca
For additional information about using the mobile app, please visit www.ststb.ca/bus-status
Stop-Arm Cameras
Injuries and fatalities while riding on school buses are relatively uncommon occurrences, but incidents outside the bus, when students are loading, unloading, or crossing the street, are far more likely to occur and can result in devastating outcomes. Vehicles passing a stopped school bus that has its stop-arm extended and overhead red lights flashing put children at risk, especially when crossing the street.
Multiple studies in recent years have shown that the incident rate of these 'blow-bys' is high with some estimates at over 30,000 occurrences per day in Ontario. Whether they are distracted, ignorant or impatient, these motorists passing stopped school buses run the risk of potentially hitting children as they go to and from their school bus every day.
Penalties, if caught, for passing a stopped school bus with stop-arm extended and red overhead lights flashing in Ontario is $400 to $2000 and six demerit points for the first offence, followed by $1,000 to $4,000, six demerit points and possible jail time for up to six months for subsequent offences. Despite this, and the dramatic increase in auto insurance rates (this offence is classified as a Major Conviction on auto insurance policies), why do so many motorists take the risk if not for the sake of children's safety, but also for the penalties they may incur? Simply put, most don't get caught.
Logistically, police traffic units cannot be everywhere all the time. They have neither the time nor the resources to observe and charge every motorist every time a traffic infraction is committed. Fortunately, the technology does exist in the way of automated stop-arm camera systems that records when drivers pass a stopped school bus – each and every time.
As of September 1, 2020, Ontario Regulation 424/20: School Bus Cameras came into effect, which establishes the regulatory framework setting out the evidentiary rules to govern school bus stop-arm camera programs across the province. The Ministry of Transportation has also developed guidelines to support municipalities in developing safety-oriented school bus stop-arm camera programs in their communities by providing information on relevant legislative requirement, processes and responsibilities.
Although the province has introduced these regulations and provided guidance, municipalities are responsible for all aspects of school bus stop-arm camera program administration. As the student transportation consortium for Conseil scolaire de district catholique des Aurores boréales, Lakehead District School Board and Thunder Bay Catholic District School Board, Student Transportation Services of Thunder Bay has been in contact with the City of Thunder Bay since October 2019 regarding the possibility implementing stop arm camera systems once the regulations came into effect. Now that they have, we hope to progress towards having stop-arm cameras installed on every local school bus as soon as possible and we are ready to work with city administration on this crucial student safety issue whenever they are ready to proceed.
On The Bus - Winter 2020/2021 Edition